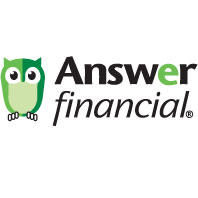 Answer Financial, Inc.
Ogden, UT | 150 Employees 0 Listings
Join one of the largest auto and home insurance agencies in the U.S.! Answer Financial is a member of the Allstate family of companies and a leading insurance comparison provider. We give consumers a single place to easily compare prices and buy insurance, both online and over the phone with an agent. Our success stems from an innovative, driven team of professionals, and our culture rewards their hard work. 

If you?re interested in joining our dynamic team, apply with us today! Our Policy Answer Financial is an equal opportunity employer. Upon acceptance of employment offers, Answer Financial will conduct drug screens, a credit check and a background check for each employee.